Health insurance plays a crucial role in the lives of many Americans. It helps provide financial assistance for medical expenses, giving people access to quality healthcare. As such, it's essential to understand the employer's role in providing health insurance in the United States. This blog post will discuss whether employers are required to offer health insurance, the Affordable Care Act's impact, and what options are available to employees who don't receive coverage from their employers.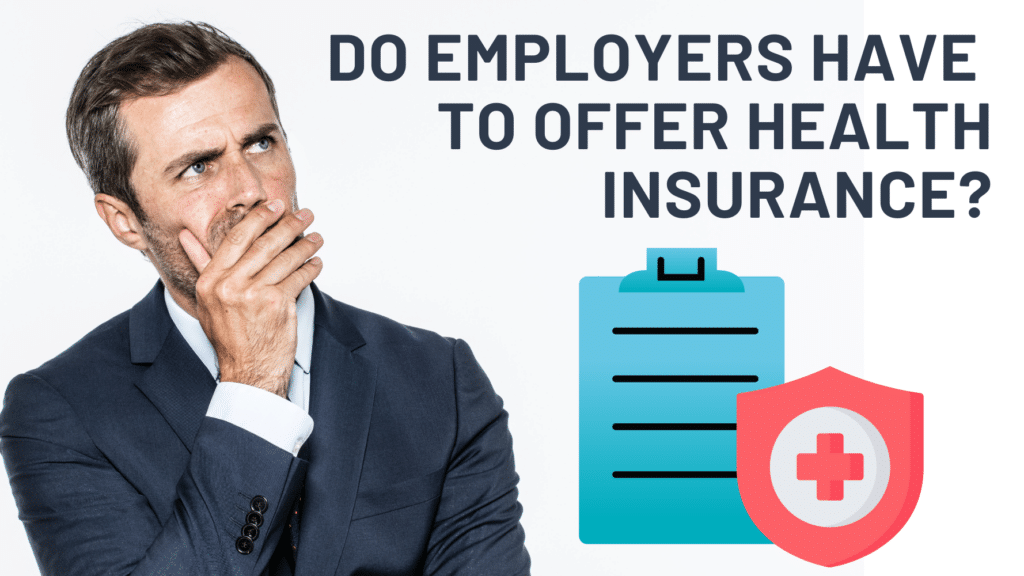 The Affordable Care Act (ACA) and Employer Mandate
The Affordable Care Act (ACA), also known as Obamacare, was signed into law in 2010. One of the primary goals of the ACA was to make health insurance more accessible and affordable for all Americans. The ACA originally introduced the "employer mandate," which required certain employers to offer health insurance to their employees or face financial penalties.
The Employer Shared Responsibility Provision
Under the ACA, the Employer Shared Responsibility Provision now applies to Applicable Large Employers (ALEs). An ALE is defined as a company with 50 or more full-time employees or full-time equivalent employees. To comply with the ACA, ALEs must offer affordable health insurance coverage that meets minimum value requirements to at least 95% of their full-time employees and their dependents up to age 26.
If an ALE does not offer health insurance that meets the ACA's requirements, they may face penalties called "shared responsibility payments." These penalties are calculated based on the number of full-time employees, and the cost can be significant for non-compliant employers.
Small Businesses and Health Insurance
Small businesses with fewer than 50 full-time employees (FTEs) are not required by law to offer health insurance under the ACA. However, many small businesses choose to provide coverage voluntarily to attract and retain employees. The Small Business Health Options Program (SHOP) was created as part of the ACA to help small businesses provide affordable health insurance options to their employees.
Employers can also get quotes from top carriers with Group-Health-Quotes.com. Simply enter your zip code in the bar below or call (888) 658-2374. Our licensed agents will be ready to help answer questions, compare plans and find savings.
State-Specific Requirements
While the ACA establishes federal guidelines for employer-sponsored health insurance, some states have additional regulations. For example, Hawaii has the Prepaid Health Care Act. This act requires employers with one or more employees to provide health insurance coverage to all of their employees that work at least 20 hours per week.
It's essential for employers to stay informed about any state-specific requirements and comply with regulations to avoid penalties and potential legal issues.
Options for Employees Without Employer-Sponsored Health Insurance
Individuals that don't receive insurance through their employer, have several options to obtain coverage:
The Health Insurance Marketplace – Created by the ACA, the Marketplace offers a variety of health plans from private insurance companies. Subsidies may also be available to lower their monthly premiums.
Medicaid – Low-income individuals and families may qualify for Medicaid, a state and federal program that provides free or low-cost health coverage.
Children's Health Insurance Program (CHIP): CHIP offers health insurance for children in families with incomes too high to qualify for Medicaid, but too low to afford private insurance.
COBRA: The Consolidated Omnibus Budget Reconciliation Act (COBRA) allows eligible employees and their dependents to continue group health coverage temporarily under certain circumstances, such as job loss or reduced working hours.
Conclusion
Ultimately, understanding the role of employers in health insurance requires knowledge of both federal and state laws. Employers may not be explicitly required to offer health insurance, but the Affordable Care Act has made it easier for employees to secure coverage plans even if their employer does not provide them.
Fortunately, there are options available for employees who do not receive coverage from their employers. Although navigating every legal requirement can feel overwhelming, no one has to face it alone – many resources exist to help you find the healthcare you need. If you need help finding a plan, call (888) 658-2374 to get a personalized quote now and start exploring the right option for you!