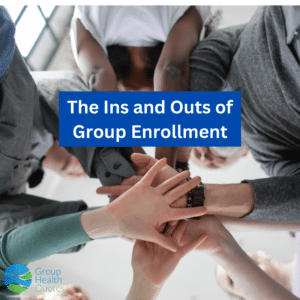 Selecting a health insurance plan can be confusing for individuals, and even more confusing for employers. In order for employers to avoid legal problems or employee complaints it's best to comprehend all of the details surrounding group health insurance enrollment. Group insurance covers more than just one person. So, you want to be completely certain that you are getting an insurance plan for your company that has the right coverages for the right price. In order to alleviate some of that confusion and stress we've developed a guide to answer your basic questions about enrolling in group insurance. The following will discuss key information that is relevant to both employers and employees. So, when it's time for you to enroll, everything should go smoothly. 
Group Insurance Background
Group health insurance allows businesses to offer affordable, comprehensive insurance coverage options to their employees. Offering health insurance to employees is something that many companies do to ensure their workers health needs are taken care of. Many studies show that employees who receive health benefits are more productive and efficient at work, as well as less likely to leave to find another job. 
Open Enrollment For Employers 
Though individual and family health plans require consumers to sign up during a specific time of the year, called the open enrollment period (OEP). This does not exist for employers looking for a group health insurance plan. As an employer, you can enroll your business into a qualifying health plan at any time during the year. This flexibility works in the favor of business owners. Allowing you to take as much time as you need to consider your options. Also, the lack of an OEP takes away the chance of missing your opportunity to sign up for benefits. Which happens more often than expected. 
Open Enrollment For Employees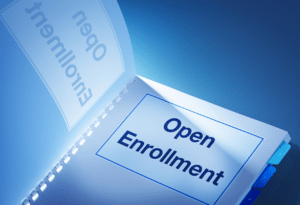 When it comes time for your employees to enroll in your group insurance policy, the rules vary. Employees will generally be eligible to enroll when they are first hired. After a new employee enrolls in a plan, that plan will remain active until the company's next OEP begins. OEPs usually last for two to four weeks. And serve as a time for employees to evaluate their medical coverage benefits, renew their current plan, or enroll in a new plan. With group insurance, the actual date range of the open enrollment period depends on their renewal date. This means the period will vary from company to company. 
Additionally, companies will offer something called a special enrollment period (SEP). Which allows employees to make changes to their health insurance plan outside of the OEP. In order to be eligible to use the SEP, you must have experienced a special a qualifying event. Qualifying events include, but are not limited to things such as marriage, divorce, legal separation, family death. As well as the loss of a dependent, and birth or adoption of a child. Generally following one of these events, employees will be offered at least 30 days to enroll in a group plan. Though most employees will not have to use a SEP, this period provides recipients with flexible options during a major life event. 
Qualifying For Group Insurance
If you own a business and are thinking about enrolling in a group health insurance plan, there are certain qualifications that you need to meet in order to be eligible. Keep in mind that based on the specific insurance company that you decide to enroll with, there may be different rules and regulations. Listed are the basic requirements of what you will need:
Two or more full-time employees, meaning yourself and at least one other person who works full-time for the company. If your spouse is the only other employee other than yourself, be sure to talk to the insurer, as they sometimes will not count. 

At least one full-time employee that decides to opt in and enroll in the group plan. 

Legal proof that you are a legitimate business. This could include a business license, articles of incorporation or any other necessary documents. 

The ability for your company to pay at least 50% of each of your employee's monthly premiums.
Since insurance companies and policies vary so much, it's important that you follow up with the specific company when you decide to enroll to make sure you are eligible. In general, if you fulfill the above guidelines, your business should qualify to receive coverage. 
How to Prepare For Group Health Enrollment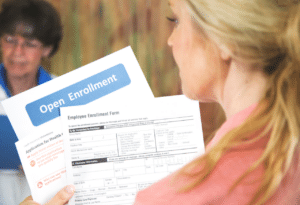 Before planning to provide health benefits for your employees, you must know that much of the decision-making process about coverage will be based upon your business's location, your budget, and the needs of you and your employees. One choice you will need to make is whether you want to offer a single option or multiple plan options. Common health plans include health maintenance organizations (HMOs), preferred provider organizations (PPOs) and more. Oftentimes plans will include different levels of coverage, referred to as metal tiers (bronze, silver, gold and platinum). These tiers indicate the cost of the plan (bronze being the cheapest and platinum being the most expensive) compared to the benefits that they offer.
When deciding on the essential details of the coverage that you want to offer, it's important that you're well-informed. To do so, it's suggested that you use a comparative website like Group-Health-Quotes.com, where a licensed insurance expert can walk you through the entire process. If you are a business with 50 or less employees, you can use the SHOP program which is accessible through Healthcare.gov. This program is specifically designed to help small businesses obtain group insurance policies. 
Employer Group Health Enrollment Tips 
When it comes time to enroll in or renew your group health insurance policy, there are a few helpful tips to keep in mind to ensure that everything goes according to plan:
Inform employees ahead of time and communicate effectively.

As the business owner, it is crucial that you give your employees ample time to research and consider their insurance options. This way your employees will feel confident in their decision. A good practice is to set reminders or calendar alerts about a month prior to the actual enrollment period. This will let you know that it's time to inform your employees about the necessary enrollment or renewal information. When doing so, make sure to tell them about their available plan options, any changes such as new benefits, and key dates like the start and final deadline of the enrollment period. 

Offer your employees additional information and resources.

As we've discussed, insurance coverage is not simple, so it's important that your employees have all the necessary information available. Ways that you can provide your employees with extra resources include giving them informational brochures, pointing them to online websites, or holding a seminar where an insurance expert can explain all the details. This will give everyone in your company a fair chance to ask questions or state concerns. 

Consider your employees' needs.

Oftentimes within an organization there are a diverse group of employees with numerous needs and wants. To help satisfy those desires, you may consider offering a broad range of coverage options and levels. These varieties could include family plans and supplemental coverages like

disability

, dental, vision and more. Employees will feel a sense of appreciation knowing that you care about their health when offering benefits tailored to them.
Employee Group Health Enrollment Tips
To make sure that your employees are satisfied with the health coverage that you provide for them, it is important to encourage them to keep the following tips in mind:
Take time to evaluate your needs.

Before choosing your insurance plan, it's vital for your employees to give themselves a sufficient amount of time to take into account the healthcare needs of themselves as well as their dependents. Some important factors that they should consider include evaluating their prescription drug medications, anticipated medical procedures or any other upcoming events that might require additional benefits. Once an employee enrolls in a plan, they are required to keep that plan until renewal comes the following year. This being said, it's important that they are informed and consider their options before making a final decision.

Compare options side by side.

If you decide to offer your employees multiple plan possibilities, you should also encourage them to do an in-depth comparison of all available coverage options. Some of the most important details to pay attention to are each plan's premiums, copays, coverage limits and deductibles. 

Review your changes and seek help if you have questions.

If your employees decide to make changes to their current insurance plan, it's important for them to carefully review how the changes will affect them going forward. Any adjustments made to their premiums, copays, or coverage limits should be taken into consideration. It's also a good idea for them to stay informed about any changes to their network provider. Be sure to encourage your employees to ask for help if they have any questions regarding plan options. It's also beneficial to address these types of things ahead of time to assure your employees are confident with their plan choices. 
Final Thought
Though navigating through group insurance options can seem like a hassle. It will pay off in the long run to have a solid understanding of the key dates, qualifying information and more. Remember that as a business owner, there is no particular date that you need to sign up for coverage within. But you will need to provide an open enrollment period for your employees. Making sure that you have the necessary qualifications and paperwork at hand when applying for a group policy will help save you valuable time. Additionally, assessing your employees needs and researching group coverage options in detail, will provide comfort throughout the process. 
If you'd like to learn more about group health insurance options or compare competitive quotes for free with a licensed insurance agent, visit Group-Health-Quotes.com. This easy and quick process will pair you with an expert who can walk you through the steps to make sure that all your insurance needs are met. You don't have to do this alone because at GHQ, we're always here to help! To get started, fill out a form on our site or give us a call at 888-571-0291.