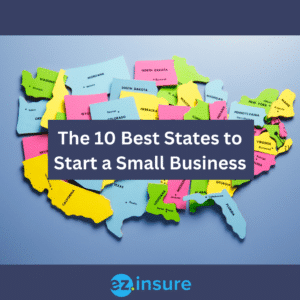 When planning out a new business venture, one of the most crucial decisions you will be forced to make is where to start your business. The geographic area where your company is located, can have a huge impact on the success or downfall of your business. There are a lot of different factors to consider when judging the potential business growth in different states. What it comes down to is a combination of the state's economic climate, their regulations, tax laws, workforce quality, and other state policies.
While this may seem like a lot to consider (because it is). We're here to help you make the most informed business decision. We've taken the above-mentioned elements into consideration and compiled a list of the top-rated states to start a small company. While you will ultimately have to make the decision yourself. It is our hope that this guide will provide some much-needed insight and make your journey a bit easier. 
1.Texas
While it can be debated, most experts agree that Texas stands as a top prospect to establish a growing business. The first attractive quality is the tax laws. Texas has no state income tax, which includes personal income tax, making it a great option for entrepreneurs. When looking at the state's population, Texas comes in at number 4 for fastest growing states, with an increase of about 1.6% from 2021 to 2022. Unlike some states that have niche marketplaces, Texas has a wide variety of industries including manufacturing, technology, healthcare, energy and more. Additionally, as a very pro-business state that values individual freedoms, Texas has minimal business regulations. 
2.Florida
Similar to Texas, Florida values state and individual rights. Also like Texas, the absence of a state income tax, provides great value for business owners. When it comes to location, the peninsula of Florida is conveniently positioned as a gateway leading into the Caribbean and Central America, making international imports and exports a breeze. When doing business in Florida, you won't have to worry about a lack of qualified employees or interested consumers, since it currently stands as the fastest growing state in the country. Lastly, the state specializes in a number of different industries ranging from tourism to healthcare to finance and much more. 
3.North Carolina 
While they don't have the same tax laws as Texas and Florida, North Carolina has many other appealing qualities making it a stellar option for individuals going into business. First off, if you are involved in a technology-related company, North Carolina could be a great place for you. It is home to the Research Triangle Park (RTP) which is a hub of technology, innovation and other research-related industries.
Another positive aspect of the state is that it is home to many top-notch universities, including the University of North Carolina at Chapel Hill, Duke University, North Carolina State University and many more. With all of these great schools within a small radius of one another, the pool of top-notch, young professionals is substantial. While they do have a state income tax, North Carolina has a number of tax credits and grants that are in place to help small businesses get established. On top of everything else, in this tough economy, real estate is still generally affordable compared to many other areas. 
4.Colorado 
Colorado is an enticing choice to start a company as it has some of the lowest average start-up costs out of any state. They rank number one when it comes to issuance of small business loans, and individuals can pay just $50 to set up an LLC or corporation. The state is a large hub for technology, and also provides access to niche industries that are restricted in most areas of the country such as the cannabis industry. Like North Carolina, Colorado is home to a number of great institutions and universities like the University of Colorado Boulder, Colorado College, and Colorado State University. This fosters much innovation, and provides plenty of qualified future employees. Additionally, with access to a plethora of outdoor activities and an overall healthy culture, Colorado stands as a great option for newly established companies. 
5.Georgia
Georgia stands an affordable place to live and run a business. Another great aspect about Georgia is that it ranks as one of the top states in the US when it comes to approval for small business loans, and has an economy and population that continues to grow year after year. Georgia is a great place for up-and-comers with access to top tier talent from many in-state universities, like the University of Georgia, Auburn and more. On top of all that, the geographical location of the state makes it a major hub in transporting goods. Additionally the state's ports are ideal for business distribution. 
6.Indiana 
Indiana is a very business-friendly state, making it a top option for start-up companies. The state has a generally low flat tax rate for individual and corporate income tax. Additionally, Indiana provides small businesses with a large amount of funding totaling to about $13.1 million in the last year. The cost of living in Indiana is also a great attribute as it currently stands at 15% lower than the national average. Their unemployment rate is also lower than the national average at only about 2.8%. When it comes to favorable industries in Indiana, manufacturing and agriculture lead the way. The state's centralized location is also a large benefit as it is relatively close to many major areas including Detroit, Chicago and the Ohio Valley. 
7.Tennessee 
Tennessee joins both Texas and Florida with no state income tax, providing business owners with a huge advantage. Tennessee is also another state that has a steady growing population that has increased every year for the past 13 years, making it an attractive location to get your foot in the door so to speak. Tennessee's two metropolitan areas — Nashville and Memphis are home to a variety of industries including the technology sector,  and the healthcare industry. While it is increasing in popularity, the state still offers affordable housing and living costs, so if you're interested, you should strike while the iron's still hot!
8.Utah 
Utah is another state that is on the rise, ranking in the top ten rising populations with an increase of 1.68% from 2020 to 2021. When it comes to taxes, Utah is one of the best options in the west with a 4.85% corporate income tax rate. For technology companies, the state is a particularly good choice to start business in, as in recent years Salt Lake City has emerged as a tech hub. The state is also a leader in tech infrastructure and resources for developing businesses, providing lots of funding for companies during the start-up phase. 
9.South Carolina 
South Carolina is a home to a number of growing sectors including manufacturing, technology and infrastructure. The state is very business friendly and values job creation. In fact, in 2021 alone, South Carolina attracted about $5.7 billion in capital investments resulting in 18,000 new jobs. When it comes to finding employees, you should have no issues as the state has only around 3.3% unemployment. Additionally, it is a great place to find skilled trade workers, as it is home to many different technical colleges and training institutes.  From an economic standpoint, South Carolina is below average when it comes to the cost of living. Lately, the states coastal location provides businesses with easy access to Port Charleston which is convenient for international deals. 
10.Nevada
While most people think of casinos when they hear Nevada, the state offers opportunities for a lot more than that! Nevada is another one of those states that has no state income tax for corporations or individuals. If you are in the business of hospitality, entertainment or tourism, Nevada could be a great place to grow your company as these are the leading industries. Along with the lack of a state income tax, Nevada is a firm believer in helping businesses get off the ground as it offers a variety of incentives such as tax abatements. Additionally, the state consumer spending continues to grow and so does its number of venture capitalists and other investment firms. These two aspects give business owners confidence that they will have no problem starting up and attracting customers. 
Keep in Mind… 
Picking the right state to start a small company is a vital part of developing a well-rounded business plan. While much of the decision depends on the type of industry you are a part of, and your overall goals. There are a plethora of other factors to account for like: economic growth, population size, tax laws, state regulations, geographical resources, access to capital and more. Even though we tend to focus on data and statistics relating to the current state of these states, it is important to also pay attention to projections for the future.
Things like top universities and employment rates will play a large role in your company's workforce. So, make sure not to overlook these attributes. When it's all said and done, it comes down to your overall vision, and specific sector. Keeping those two points at top of mind, you'll be able to find a state that provides growth potential, financial opportunities, and other qualities that align with your business's needs. 
If you are a business owner who is looking for an affordable and comprehensive health insurance policy for your employees, look no further! Group Health Quotes specializes in providing people like you with the most competitive quotes in your area, that fit your budget and needs. Our quick process lets you compare quotes side-by-side. And our licensed insurance professionals will be there to help you every step of the way. So don't wait, fill out a form or give us a call at 888-571-0291 to get started today!