Securing the right commercial insurance is probably one of the last things on your mind. After all, setting up shop and getting your business started can take a lot out of you. But it's important to protect your investment and secure the future of your company. One of the smartest decisions you can make is learning how to get business insurance.
Insurance offers many benefits, including providing financial security against unexpected losses, protecting income during difficult times, and ensuring that your employees and your customers stay safe. But with so many different policies and types of coverage available, how do you know which option will be best for your specific needs?
We're here to help guide you through the complex world of business insurance. In this blog post, we'll cover all the basics. You'll understand the different types of policies and learn how to choose coverage – everything you need to know in order to get the right insurance plan for your business.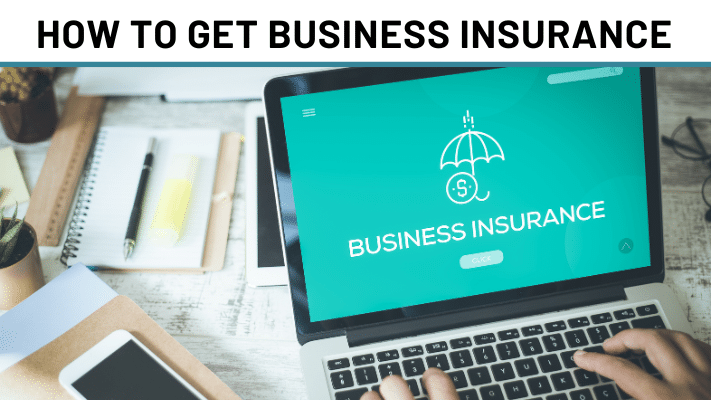 What is business insurance?
Business insurance, sometimes called commercial insurance, is like a shield that can protect your business from financial losses due to property damage, lawsuits, theft,  injury or illness of employees, and more. Instead of taking on the burden of these costs yourself, your insurance can reimburse your company, providing a layer of security that gives you peace of mind. 
Investing in insurance means you're taking an additional step to protect your business, assets and employees.
How to get business insurance
Evaluate your business' risks
No matter how safe you are, you face a multitude of potential risks that could threaten the success of your company. These risks can be dependent on your industry or your location or even your employees. They could include damaging your property or equipment, experiencing income loss, facing liability claims, dealing with work-related injuries, and even falling victim to cybersecurity attacks or data breaches. To minimize the impact of these risks, it's important to consider potential accidents that could occur, unexpected disasters that could affect operations and any possible legal issues that could arise. 
Even if you run a company from the comfort of your own home, it's still important to ensure your business is fully protected. If you need help identifying the risks your business faces, Simply Business can help so you can focus on doing what you do best: building your business!
With a better understanding of your risks, then you're ready to explore the various types of commercial insurance to ensure you are fully covered in the event of anything unexpected. 
2. Choose the type of insurance you need
After you've considered your unique business risks and needs, it's time to dive into the different types of coverage. Here are some of the most popular types of business insurance:
General liability 
General Liability Insurance
 can cover a wide range of claims, including bodily injury, property damage, and personal or advertising injury. With this coverage, you can focus on running your business without worrying about the unexpected. 
Damages to premises rented to you and products-completed operations can also be included in this essential coverage. Safeguard your success with the security of commercial liability insurance.
Workers' compensation insurance
Looking out for your employees is one of the most important aspects of running a successful business. That's where  Workers' Comp Insurance
comes in – providing coverage for medical expenses and lost wages in the event of a work-related illness or injury. 
By offering this insurance, you can ensure that your employees feel valued and supported. Plus, it serves as a legal requirement in many states. Accepting these benefits means your employees waive their right to sue you for any on-the-job related injuries or illnesses.
Business owner's policy 
A business owner's insurance policy, otherwise known as a BOP, is the perfect insurance solution for owners seeking simplified and secure coverage. This comprehensive package bundles general liability and property insurance. 
A BOP provides coverage for customer injury, property damage, and product-related claims, along with protection for both commercial buildings and movable property. 
Business interruption insurance
Business interruption insurance coverage is like a safety net for your business. If you have to shut down due to unforeseen circumstances, it'll help you cover lost income and other expenses like rent, taxes, and payroll. 
Commercial auto insurance
If you have a work truck, car or van you need commercial auto insurance to protect those vehicles in case of accidents, injuries, and liability claims. Think of it as a beefed-up version of personal auto insurance, with added coverage for property damage, trailer exposure, and more. 
This type of insurance is especially important for those with larger vehicles, like tow trucks, snowplows, and semi-trailers, as well as those with installed business equipment. 
Cyber insurance
Cyber Insurance
 can protect small businesses from cyberattacks like viruses and ransomware. 
Professional liability aka errors and omissions
For those who offer professional services, safeguarding against potential errors or omissions is crucial. Enter Professional Liability Insurance also referred to as E&O insurance. 
Whether you're a consultant with clients relying on your expertise or a doctor entrusted with the health of patients, professional liability insurance offers peace of mind. 
The price tag will differ based on your industry and profession, but the cost is undoubtedly worth the added protection. After all, accidents happen, and being prepared for the unexpected is the hallmark of a successful professional.
Product liability
Product liability insurance offers unparalleled protection for your business against mishaps and lawsuits associated with your product. It promises comprehensive coverage against any harm or injury caused to third-party users of your product. 
Directors and officers liability insurance
If you're running a business with a board of directors or an advisory committee, there's insurance you don't want to overlook – D&O insurance. This type of insurance is a safeguard for your directors and officers, shielding their assets in case they're individually sued for misconduct during their management of the company. 
3. Compare Rates
Money is undoubtedly a key factor in any business decision. The urge to cut corners and save on expenses is understandable, but when it comes to insurance coverage, settling for the bare minimum can be a risky move for small businesses. Taking the time to explore comprehensive plans and compare multiple quotes can help you save more in the long run.
Contact business insurance carriers on your own
If you're looking for a straightforward approach to finding the right coverage, consider reaching out to providers like Hiscox
or Biberk
directly. While it may seem like a daunting task to research different companies and obtain quotes, this keeps you in control of the process. 
If you're a smaller business with simpler needs, this option could actually be very efficient if you have a specific carrier in mind. Just be sure to check that the carrier you're considering working with is reputable by looking at their A.M. Best Rating.
Find an insurance broker
Having a commercial insurance broker by your side can simplify the complex process of finding the right insurance plan for your business. Just like a specialized broker group health insurance, a commercial insurance broker will leverage their knowledge and connections to present you with tailored quotes and coverage options. However, it's always wise to partner with a broker based on a personal referral or online reviews, as some may be motivated by their commission.
Get quotes from an insurance marketplace
Online insurance marketplaces like Simply Business offer an easy, hassle-free way to find the policy that meets your business's specific needs. With just a few clicks, you can input your basic information and receive multiple free quotes from top providers without ever having to pick up the phone. 
Why waste time contacting individual insurance companies when you can have all the information you need at your fingertips? It's like having a personal insurance concierge! And the best part? They also have insurance experts readily available if you have questions or need help making an informed decision.
Say goodbye to the hassle of working with a broker and hello to the power of an online insurance marketplace.
4. Buy your business insurance policy
Congratulations on choosing your policy! Now that you've taken this important step, it's time to purchase and get your certificate of insurance. It's important to stay informed about the payment schedules and how to file a claim, if you need to. Many insurance providers offer online portals for your convenience that will allow for easy payment, claims filing, and customer service inquiries. 
But wait! One more thing, regularly reviewing your policy and assessing whether you need to make changes is key to ensuring that you stay properly covered. Getting quotes annually can also help you keep your costs low. 
Conclusion
In the end, investing in business insurance is one of the most sensible decisions that any owner can make. Not only does it offer financial protection and peace of mind, but it also helps promote safety and security within your organization. 
Understanding the different types of policies available and finding the right coverage for your needs can be a challenge – but with our advice, you'll be equipped to make an informed decision about what level of protection your business needs. 
If you still need help after reading this blog post, Simply Business is ready to help you find affordable, comprehensive coverage. Click here to Compare quotes from leading insurers at Simply Business
. Staying prepared isn't a choice; it's an obligation both to yourself and your company. Insuring your business is one of the smartest steps you can take towards a secure future.