In our fast-paced world, convenience is key. That's why employer-sponsored health plans are a hot topic. Did you know that employer-sponsored insurance covers more Americans than any other source of health benefits? More than 70% of workers are covered under an employer-sponsored plan according to The Commonwealth Fund.
From health insurance to retirement savings, these plans offer countless benefits that go beyond monetary value. They enhance financial security while making life simpler for employees. In this blog, we will delve into these benefits, exploring why a growing number of people are attracted to such plans.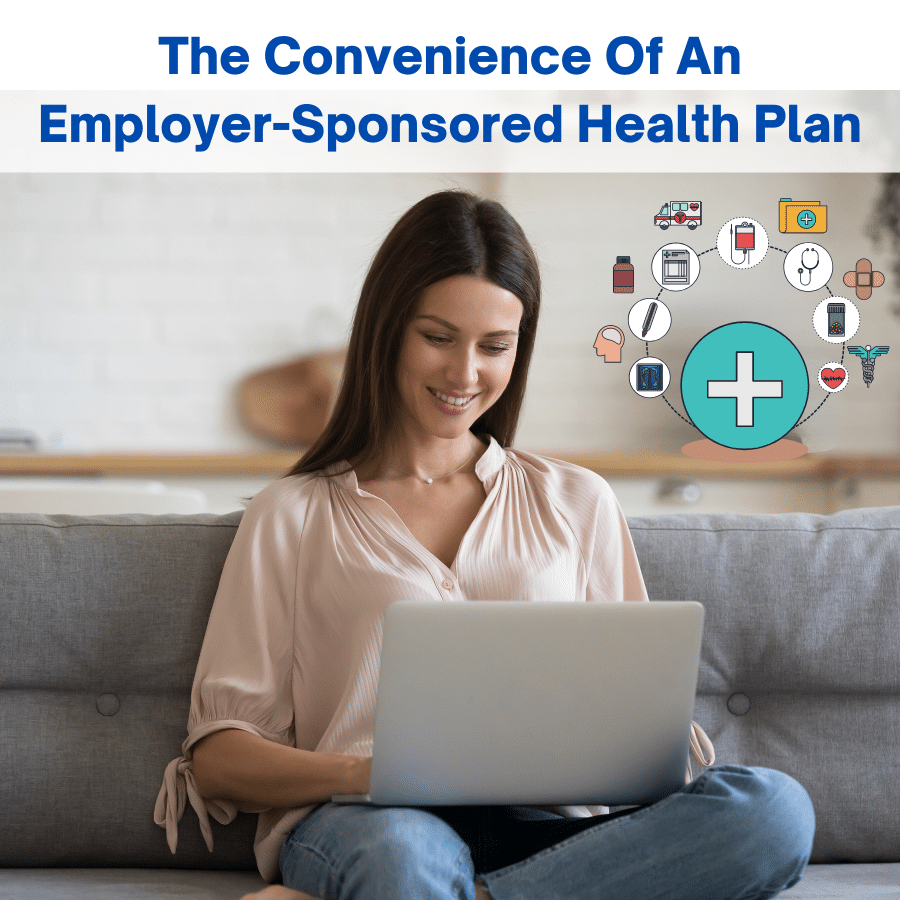 Easy Access and Enrollment
Employer-sponsored health plans can offer significant advantages, including easy access to a range of benefits. Instead of searching for individual plans, employees can conveniently find comprehensive packages offered by their employers. These packages can include health insurance, retirement plans, dental, and vision coverage, making it easier to save time and effort.
Enrollment procedures are often streamlined and convenient; taking place during onboarding or designated enrollment periods. Employers ensure a hassle-free experience by providing clear guidelines and assistance throughout the process. Employees can focus on their work while securing essential benefits since they don't need to spend hours researching options. With simplicity at the core, enrollment is stress-free and straightforward.
Group Rates and Cost Efficiency
Employers can also leverage the power of group purchasing to negotiate favorable terms and rates with insurers and service providers. Group rates tend to be much more affordable than individual plans, which allows employees to access amazing benefits at a lower cost. This cost savings can be substantial, particularly for high-value benefits like health insurance, where individual premiums can be extremely expensive. With group purchasing, you can feel secure knowing that you are getting the most advantage for your hard-earned money.
In addition, employers may also contribute a significant portion of the premiums, reducing the financial burden on employees even more. This shared responsibility ensures that the benefits remain accessible and affordable, promoting financial well-being and peace of mind.
Comprehensive Coverage Options
Employer-sponsored plans typically offer a wide range of coverage options, addressing various needs and priorities of employees. Health insurance plans often include comprehensive medical, dental, and vision coverage, ensuring that employees and their families receive all of the necessary healthcare services. The availability of these benefits under a single plan eliminates the hassle of managing multiple policies.
Furthermore, employer-sponsored retirement plans, such as 401(k) or pension plans, let employees save for their future without seeking external investment options. With automatic payroll deductions and potential employer contributions, employees can effortlessly build their nest egg and plan for a secure retirement.
Administrative Support and Expertise
Employers recognize the importance of administering benefits effectively to their staff. As such, administrative support and expert guidance are typically provided to assist employees in navigating any intricacies. This can come from specialist HR teams or third-party administrators, who are available to address queries, resolve issues and provide helpful advice on maximizing benefits.
By offering such support, employers can empower their employees to make informed decisions and maximize the value of their benefits. This guidance not only adds to the convenience but also boosts satisfaction derived from employer-sponsored plans, thereby adding value to the overall experience.
Employer-Sponsored Health Plans Offer Flexibility and Customization
An employer-sponsored health plan can often offer flexibility and customization options to meet the diverse needs of their employees. This includes the ability to choose different coverage levels, providers within a network, or tailor retirement contributions based on personal financial goals. By aligning benefits with individual requirements, employees experience greater convenience and satisfaction.
Conclusion
Employer-sponsored health plans stand out as a convenient solution for employees seeking financial security and comprehensive benefits. By offering easy access, cost efficiency, comprehensive coverage, administrative support, and customization options, these plans elevate convenience to a new level.
From health insurance to retirement savings, these plans give people the flexibility and freedom needed to keep their budget in check and their life secure. On top of that, many employer-sponsored plans come with financial incentives that make it easier for employees to save for their future.
Going forward, it is likely that such plans will only become more important as current and prospective employers look for ways to attract and maintain talent in the competitive landscape.
If you're interested in finding out more about how to get started with employer-sponsored health plans, give us a call at (877) 658-2374 or enter your zip code in the bar above for a free quote.